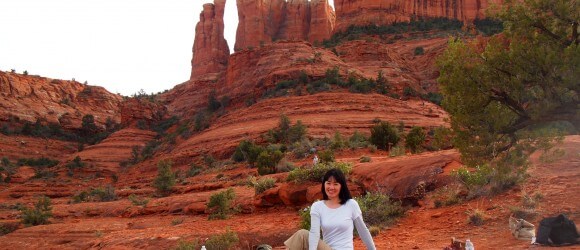 What do you get if you take one of our spiritual Sedona tours and add in some yoga? A spiritual Sedona Yoga Tour! Starting your new yoga experience in the outdoors — especially in the red rocks of Sedona — can immediately boost your yoga connection.
Not to worry if you can't sit cross-legged or touch your toes. Our yoga teachers realize that the physical aspects of yoga are secondary to the true nature of the practice — the connection you develop with yourself as you explore your inherent yoga nature. As long as you can breathe, you have automatic success with every pose.
Indeed, if you are not flexible, the very practice of accepting that physical inflexibility becomes itself a successful practice. Our teachers work with you to determine what style of yoga will best help you. For some it's a very still practice, while for others it may involve more movement.
Your yoga practice can also be tailored to help you to become grounded, to become energized, to release old blockages or invite in new energies — whichever approach serves you best. Learning and practicing your yoga with the Sedona vortex energy will begin your practice with the help of Sedona's powerful energies.
Feel free to bring a camera and have your teacher photograph some poses for you to take home. You'll leave with a new knowledge of poses and yoga philosophy that you can take with you and continue to grow!