The Sedona Photography Tour
---
WE are NOT OFFERING this TOUR For the Time Being.
If photography is your passion, our Sedona Photography Tour is for you. Sedona has been voted "The Most Beautiful Place in America" and it's replete with magnificent vistas, stunning colors, and jaw dropping natural landmarks everywhere you turn.
The Sedona Red Rock Photography tour will be a memorable journey for you with award winning photo ops in all 360 degrees.
This is a private tour, so you can go at your own pace.  Our guide will help select sites that will provide the photo op you are looking for.  Sedona abounds with fabulous vistas and beautiful micro views of plants and flowers, rocks and more.
There are a myriad of sites to visit: Red Rock Crossing, the most photographed foreground for transcendent Cathedral Rock, Back O' Beyond, Bell Rock and Courthouse Butte, Airport Vortex.
Private photography tour was great. Akal took us to two spots for photography. One of which we would have never found on our own. He was in tune with our teenagers enough to take us to a spot where they could sit on the edge and take pictures that would amaze their friends. He could not have been nicer. We're not into all the New Age stuff around Sedona but do love the scenery. –JPyronman, Marietta, GA
Each location you can look down over the greater expanse of Sedona, Chimney Rock, the Buddhist Amitabha Stupa, Medicine Wheels found throughout the area, and so much more.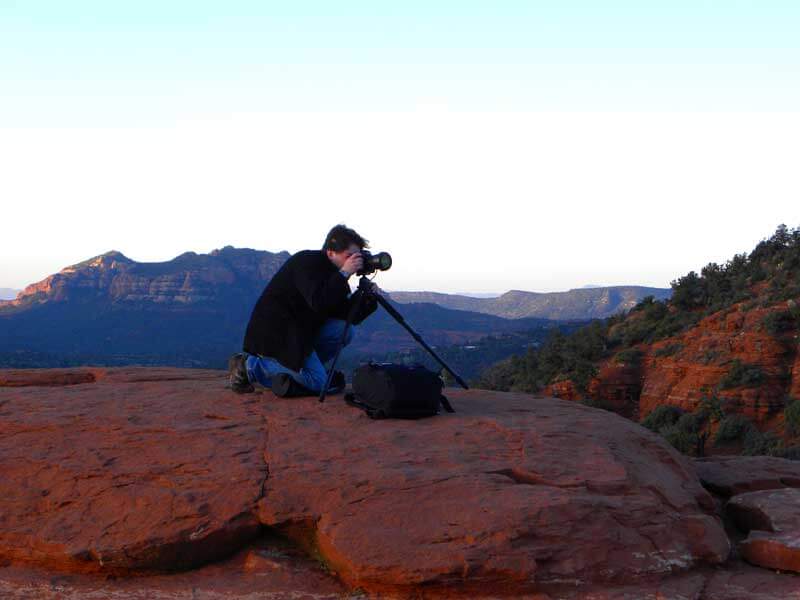 Our guides are experienced in photographing Sedona and they know where the money shots are! It's best to go early in the morning or late afternoon for optimal lighting.
Awesome experience! We booked a two-hour tour to see Sedona and take photos and finished the tour wanting more! Akal was an absolutely wonderful guide as well as a delightful person… he has truly embraced the area and showed us many gorgeous spots for photographs. Bring your walking shoes and camera. He is very kind and knowledgeable and I can't recommend him highly enough! You will NOT be disappointed! –Susan B.
---
---
The Sedona Photography Tour Rates
3 hour tour $600 (for up to 3 people)  For 4 or more $200 each
email  info@sedonadestinations.com
(online booking not available)
---
Akal knows his photography! He knows the best scenic spots for photographs, all about how the light affects the red rocks and how to take advantage of it, and even took pictures for us when we were in our spiritual moments. With his help, we got just wonderful shots – the best of our trip. On a scale of 5, I'd give Sedona Red Rock Tours a 10! We wholeheartedly recommend them, and will absolutely work with them again when we return to Sedona, which I am sure we will. Wouldn't miss it for the world. –Whispering Pines Tour Participant
---
---