Sedona Private Group Tours
---
Group tours can be an awesome way to experience Sedona's vortex energy (that is, IF the tour is led by a highly skilled guide)
Check out all of our Private Group Tours now
Did you know that when a group comes together and focuses their energy, the consciousness of every person present is amplified exponentially by the number of people in the group?
Then add Sedona's powerful vortex energies to your group experience… and whoa! The possibilities for transformation, healing, creativity and awe break wide open — for each person and the group as a whole.
No doubt about it, Sedona is beautiful no matter what tour company you go with.
And you may even feel the vortex energies on your own without the help of a guide.
But if you want your group tour to be the highlight of your group's Sedona experience — and magical in ways that can only be imagined — you've come to the right place.
As Delphenis C. said, "We have gone on several other tours (jeep) and know now that the best is a guided tour with Sedona Red Rock Tours. We had the highlight of our week in Sedona with our guide. Three hours of beautiful scenery, wonderful conversation, places to meditate and connect with this stunning land. You have lots of options in this town, we have tried many and will book again with Sedona Red Rock Tours."
Enter Akal. And Miguel. And Lawrence, Lynn and Jim… And take a look at what recent tour goers have said about them to the right…)
Our outstanding guides are what set us apart from other Sedona tours.
How so?
They bring their wisdom, knowledge, intuitive skills and abilities to each tour and every person on the tour to help them discover beauty, connection, meaning and transformation both in the natural world and in their own lives.
And they know how to harness vortex energy and the energy of a group to create a powerful and memorable experience.
James M. put it this way, "Our guide was incredible and he made this tour a memorable experience. It was really truly like touring with a friend, who had incredible knowledge about Sedona, vortexes, photography, meditation and mindfulness–everything. What I most appreciated is that he really read the group and calibrated to our tastes. If you are really into the vortexes, he could go very, very in-depth on that. He is a shaman so he can really dive into that if that is what your group wants. He is an excellent photographer so advises on great locations for that and cool, non-typical ideas for shots. I loved that he read our group and calibrated. Was JUST right. He took us to some places that we would not have gone ourselves, including some that we could have never ever even have known about."
Some questions we are frequently asked…
"Why is a tour out on the land better than a Jeep tour?"
It's quite simple really. It's the difference between being right out on those amazing red rocks, putting your hands on them and going directly to power spots for direct connection to the earth. That or you can take a bumpy ride in a Jeep where the guide simply points over his shoulder at the rocks and power spots as you whiz by.
Our guides personalize the tour to your group's needs and desires and help bring an even deeper meaning to the power and majesty of this beautiful area … even to self-proclaimed skeptics. As one of them told us about his guide, "Pink Jeep might enable you to encounter  the red rocks, but Akal helps you to be moved by them."
"Why a private group tour vs. just any group tour?"
Private group tours are perfect for groups that want to experience Sedona to deepen their connection to each other and to the group and to gain a more intimate interaction with their surroundings, the energies and the Sedona experience.
"If you are looking for a meaningful and/or spiritual experience, an opportunity to truly reflect on your journey through life while gazing on the beauty that is Sedona, you will not be disappointed." –Eugene P.
"Where will we go?"
Your guide(s) will assess your group's physical abilities, desires and energy blueprint to intuit exactly where your group will go. With limitless stunning landscape options and over 75 known power spots to choose from, Sedona will not disappoint you.
"How many people can go on a group tour?"
Our group tours start at 7 people. (If you have fewer than that, check out our regular tours here.) We can easily accommodate groups of up to 14 people. If you have a group larger than that, please inquire as early as possible to ensure appropriate availability and transportation.
"How much does it cost?"
Most of our private group tours run approximately $30 per hour per person (see our packages below). You won't find a better deal in town of comparable quality. To hold your date and reserve your guides, we require a $250 non-refundable deposit and the balance is charged to your card 30 days before your tour date.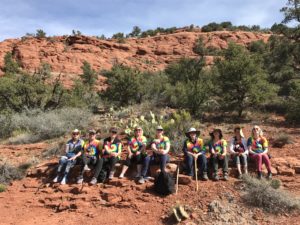 Mary Hargrove:
"We all enjoyed every minute being in Sedona. What you brought to the medicine wheel in knowledge and feeling made it especially meaningful. We all appreciate it Akal"
---
Private Group Tours
Choose the private group tour below that best suits your group. Or call or chat us about customizing a tour experience for your group.
---
The
Vortex/Medicine Wheel Combo

Private Group Tour.

This 3-hour experience focuses on using vortex energy for transformation and visiting one or more Sedona medicine wheels for spiritual reflection and a customized ceremony focusing on the group intentions. This is our most popular group tour and is recommended for groups that want to focus on the vortex experience, as well as groups that may have participants with limited physical abilities. Minimum of 7 people. $120 per person. Guide gratuities and all park fees are included in the per person cost.
---
The Sedona
Bachelorette Party

Private Group Tour.

Our Bachelorette Party Tour is a unique way to mark your transition from single to married life with your closest allies in one of the world's most beautiful landscapes. Your group will be led by a shaman to use vortex energy in a medicine wheel ceremony to celebrate the bride and send prayers for the blessing and happiness of the marriage. This is a 3-hour private tour, including pick up and drop off time. Minimum of 7 people. $120 per person. Guide gratuities and all park fees are included in the per person cost.
---
The Sedona Private
Group Hiking

Tour.

This hiking tour focuses on moving through the land and experiencing some of the most captivating painted landscapes in the area and learning about the flora and fauna and Sedona's amazing energies. This tour is recommended for groups that want to hike and experience the natural world. The hiking is tailored to the group's ability as a whole. 3 hours. Minimum of 7 people. $120 per person includes guide gratuities and park entrance fees.
---
The Sedona Private Group
Yoga Hiking

Tour.

This yoga experience focuses on hiking to spots particularly suited for asana practice, both for energetic empowerment and for inspirational beauty. You'll feel the earth and the vortex energy as you move and stretch and breathe in a rarefied environment. This tour is recommended for any level of yoga practitioner and the hiking is tailored to the group's ability as a whole. 3 hours, minimum of 7 people. $120 per person. Includes guide gratuities and park entrance fees in per person cost.
---
If you have a group of 30 or more people with your own transportation, our Large Group Rate is $75 per person for a private tour with step on guides, including guide gratuities.