The Sedona Yoga Tour
---
Enjoy the amazing experience of Sedona yoga tour on the rocks with poses attuned to the individual energy of each vortex.
Here in Sedona, the East meets the Southwest–and it will never be the same again!
Learn how to translate the energy into movement while cleansing and purifying, activating and energizing your chakras. The Sedona Yoga Tour is a whole new spin on power yoga. This is sacred vortex power yoga!
The vortexes are daily revealing new poses such as butte pose, raven pose, roadrunner pose, Thunderbird and more! You will experience hiking, asanas and meditation on a Sedona power spot with one of Sedona's finest teachers!
A powerful, personal instructional activity.
OM SHANTI
---
Yoga On The Rocks in Sedona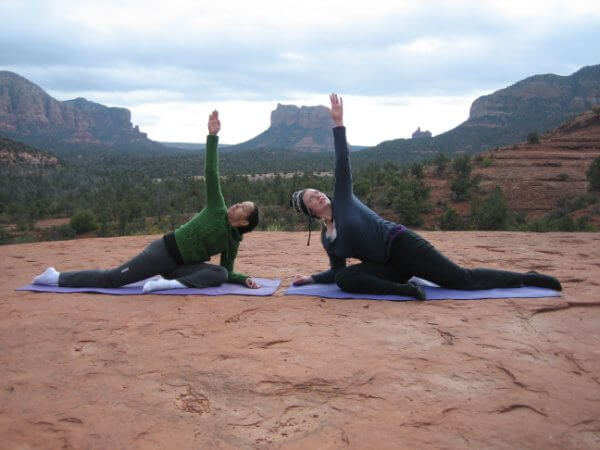 2 hour tour starts at $240 (for up to 4 people)
Or you can email us at: Info@SedonaRedRockTours.com
To book a tour by phone call us at: (928) 282-0993
We also offer a longer Sedona Yoga Retreat.
---
I had vortex tour and yoga tour in Sedona. Simply awesome! I learned a lot from my tour guide, Patricia, including how to release my concern or fear, to get confidence. This experience is a big help for me in my daily life. I still think about Sedona and my tours with Sedona Red Rock Tour and appreciate to have given me precious awakening! –Yoshi, Japan
---
Check out the power and passion of Sedona vortex yoga on the rocks from our Sedona Vortex Yoga DVD…
Our yoga tour is a deeply transformative experience of awakening, whether you're a seasoned yogi or yogini or a beginner. Prepare for your tour or simply transport yourself to the energy field of Sedona by practicing wherever you are with the Sedona Vortex Yoga DVD.
---
---