Come and Play in the Rain!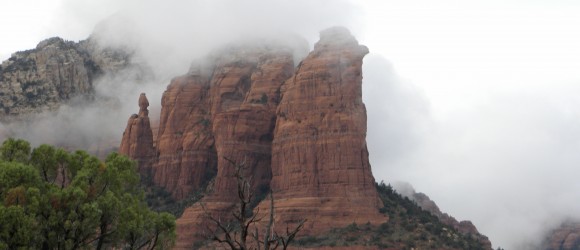 As you may expect, those of us living in beautiful Sedona love a rainy day — we have them so rarely.   But we are also so happy to let you know that rainy days are also wonderful for a Sedona Red Rock Tour!
The rain transforms the Sedona forest in so many ways. Here are a few that I always notice:
One of my favorites is the smell — the moist thickness that comes into the air on a rainy day is so wonderful.  You can smell the plants more distinctly, and the smell of the earth itself…
The change in colors is another facet you have to see to believe.  The greens on the cactus seem to glow.  The colors that are revealed in the bark of the cypress trees never ceases to thrill me — reds, greens, golds — colors usually hidden come to life as the trees are showered.
Solitary walks. Since most visitors do not realize the gifts that can be experienced on a rainy day, they hunker in and wait for it to pass.  Journey out in the rain, and you're likely to feel like the only visitors in the forest.
Ahh, the mists and rainbows…  Often as the temperature changes throughout a rainy day we will see mystical mists rising from the ground, obscuring parts of the rock formation while the remainder of the rock looms above.  And the rainbows?  You never know where you'll see them as the sun peeks out.  And, true to form, Sedona rainbows are not to be outdone — full length and double rainbows, so beautiful.
And all these beautiful aspects can usually be experienced in comfort — just throw on an extra layer or two and cover up with a plastic hooded poncho.  Just take care if walking on the open rock — they can get slippery when wet!
So take advantage of the rare rains, and join us for a Sedona Red Rock Tours experience!