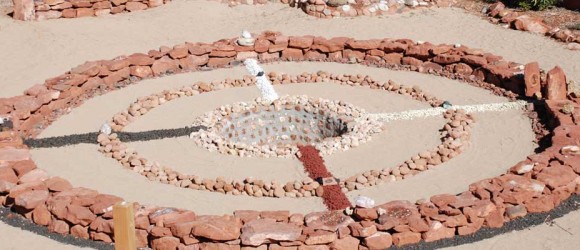 Whoever said you don't want to be going in circles has never experienced a medicine wheel! Indeed, take a Sedona vortex medicine wheel tour, and you'll find out why going in circles may be exactly what you need.
Medicine wheels are constructed to indicate the four compass directions.  They can be bigger than a football field, or small enough to fit in the palm of you hand.  Usually set out in rock, the wheels can represent many ways of looking at life, and are considered medicine in their native cultures.
We have several medicine wheels that are easily accessible in Sedona. Each of these Sedona wheels has its own look, and its own teaching. In your Sedona Vortex Medicine Wheel Tour, you'll experience some of these wheels and learn ways to experience their potential.
Once at a wheel, your guide will introduce you to that wheel, while calling in the directions and smudging you.  As you enter the wheel, you'll be taught to practice the healing modality of that wheel and experience drumming and songs to more deeply connect with it.
As you learn which aspects of medicine wheels appeal to you, you may be inspired to create your own wheel once you return home — yet another way to keep your Sedona connection strong!