Sedona Vortex Yoga DVD
---
7 Yoga Flows Filmed at 7 Vortex Sites
Have you ever dreamed of doing yoga in the energy of the Sedona vortexes? Do you desire deeper spiritual connection from your yoga practice?
Sedona Vortex Yoga by Iala Jaggs is a blend of Eastern yogic traditions and Southwestern medicine ways that will fulfill your soul's longing to be in the sacred red rock energy field of Sedona and experience the power of her energy vortexes without ever leaving your home.
Yoga instructor and shaman, Iala Jaggs, guides you through a Sunrise Salutation and Chakra Clearing & Balancing at the Seven Sacred Pools, Calling in the Directions at Baby Bell Rock, and a power flow at Airport Vortex. You will also experience never-before-seen Southwestern asanas such as Roadrunner and the Thunderbird at Raven's Roost, a heart opening at SugarLoaf and a deep honoring of the Divine Mother at magnetic Red Rock Crossing. All of this culminates in a soul-stirring Moon Salutation high atop Sedona Vista.

GET THE SEDONA VORTEX DVD AND EXPERIENCE SACRED SEDONA VORTEX YOGA WHEREVER YOU ARE!
---
Here's What People Are Saying about
Sedona Vortex Yoga DVD…
Sedona Vortex Yoga is more than just a Yoga DVD–it is a Spiritual Experience. I laughed. I cried. It made me happy. I bought four copies and gave one to my therapist! A transcendent experience with Iala." — Alexis Lewis

I took a couple of your classes at the Rouge Hotel last month and I bought your DVD. I can't tell you how much I am enjoying it! I love your style of teaching. I can't wait to come back to see you." — Caroline Greene Krueger
---
Watch a sample of Sedona Vortex Yoga…
httpv://youtu.be/08CSQVnpsHc
For more info or wholesale orders contact: sedonaredrocktours@gmail.com or (928) 282-0993.
---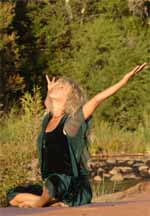 Iala Jaggs has been teaching and studying yoga since the 80's. She has studied Kundalini, Hatha, Kripalu and Bikram Yoga. Her style is a unique blend of asanas, spirituality, humor, joy, experience, prana, service, exuberance and love. She is also a certified fitness and pilates instructor, personal trainer, hypnotherapist and spiritual coach. She teaches a daily JOYOGA class at the Sedona Rouge Hotel and Spa–all are welcome–and she leads yoga retreats in Sedona and Costa Rica.
---
More Reviews for Sedona Vortex Yoga DVD

Sedona Vortex Yoga – Yoga Inspired by the Spirit of Sedona
With: Iala Jaggs; Sedona Vortex Yoga Productions; 2008; $20.00;www.SedonaRedRockTours.com; retailers or drop shippers contact: sedonaredrocktours@gmail.com
Yoga asanas, we are told by the opening visual message, are meant to bring the prana (breath) into the body. Yes!! Let's breathe, and the world will be a better place.
I know Iala as a dream-driven dynamo who has been practicing and teaching yoga for many years. A yoga instructor at Sedona's 'The Rouge' Resort, she loves Sedona and she loves yoga. And so she brings us the best of both: yoga instruction at seven of Sedona's sacred sites.
The Seven Sacred Pools (which you will encounter if you hike the trail at Soldiers' Pass) never dry up, even in the heat of summer. The video begins here, setting up sacred space, followed by a salute to the sun and other Shivasana stretches and a bit of relaxation. Next, she takes us to Bell Rock (second chakra), were we call in the Directions and the angels, archangels, spirit animals and elementals— Yod-Hey-Vod-Hey —all to the beat of the drum. More stretches, Eagle pose, namaste . Thank you, Tunkashila . More stretches, more breaths, more relaxation, and we send our prayers up through the great transmitter that is Bell Rock.
Next stop is Airport Vortex, where Iala leads us through the breath of fire. On to Raven's Roost (solar plexus), where we leave Shivasana poses behind in favor of roadrunner pose, and thunderbird… we are flying! And finding joy in the water. Then to sweet Sugar Loaf (heart chakra), stretching the chest, opening the sacred heart. Now, on to Red Rock Crossing, on the red rocks at Oak Creek under the magnificent Cathedral Rock, nurturing creativity and inspiration as we worship the divine feminine in our lives. Finally we go up on Doe Mountain, with its vast vista looking out over red rock country.
Deeply refreshing and regenerating. All poses and stretches are gracefully demonstrated by Iala, a goddess whose beauty is the perfect match for the yoga and red rocks and junipers. Her rich, breathy voice expresses all the emotion we need to motivate us to get up and stretch and reach for the miracle of living a blissful, fully oxygenated life.
Sedona Vortex Yoga is one of the most beautiful and inspiring yoga videos I have seen. Namaste .
—Chiwah
---
Sedona Vortex Yoga DVD
With Iala Jaggs
Sedona Vortex Yoga is a practice for the Body Mind & Spirit. Iala explains the special qualities of each vortex and how to use the energy to enhance your life. This DVD is a wonderful blend of ceremony, yoga practice and a visual journey through Sedona's Vortexes. Her soothing voice and natural landscape make it not only fun to follow along with, but also a wonderful souvenir of one's trip to Sedona.
---

Includes: Sun & Moon Salutation, Chakra Clearing, Creating Sacred Space, Calling in the Directions & Meditations."
Sedona Tours Permit with the Coconino National Forest