Awaken Your Intuitive Power Tour with a Sedona Intuitive Reading
---
Want to experience a Sedona intuitive reading in one of the world's most powerful energy fields?

Would you like to learn how to be more psychic yourself from a talented Sedona Intuitive?

Are you ready to open and connect with your birthright?
---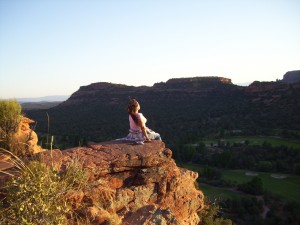 Psychic Intuitive Teachings
A Sedona intuitive teaching is most powerful right in the midst of the vortex energy because the vortexes amplify subtle energies. This class is a rare opportunity to learn from one of our Intuitive Guides how to awaken and enhance your psychic powers using the amazing energy fields of Sedona.
This experience takes place out on the red rocks at some of the most powerful places in Sedona.
Our guide will assist you in using the power of these very special places in Sedona to maximize your natural psychic abilities–no matter where you are!
We all have innate psychic abilities; we are all intuitive beings. But the challenges of life happen and we often respond by unknowingly closing ourselves off to the free flow of spiritual energy through our beings.
One of our main intentions with all of our tours and services is to help you gain direct access to your own  inner knowing.  To connect you with your higher self so that you are no longer looking outside of yourself for answers.
The energy of Sedona and the teachings of our guides will  let your awareness expand and blossom to your full potential as a spiritual, open, expansive and intuitive human being with an in-depth teaching session with one of our highly intuitive guides.
You'll discover new tools for going within and seeing with clarity through your third eye. You'll learn how to access your own inner knowing and intuitive ability. And you will be treated to a short intuitive reading by your guide as an example of how to use these tools.
You won't find this anywhere else!
---
"Awaken Your Intuitive Power" Tour
with a Sedona intuitive reading
2 hour tour starts at $240.
To book your Awaken Your Intuitive Sedona Experience or for more information, call us at (928) 282-0993 or email us: info@sedonaredrocktours.com
---